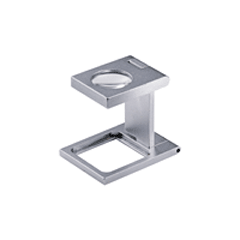 You can order
the Thread Counter at:

Fontana Publishers
Steegstraat 12
NL-6041 EA Roermond
The Netherlands
Telephone 0031 475 350 659
e-mail: info@fontana.nl

Price: 20 euro
excluding shipping
(shipping:
NL: 1 ex 1,95 euro
EU: 1 ex 4,50 euro
World: 1 ex 4,75 euro)

You can order by e-mail


Thread Counter

Thread Counter in chromed brass.
This thread counter is a professional magnifier used by printers and designers. It is the standard in the printing industry. This 'Made in Germany' thread counter is one of the finest and best quality versions. In other words, the best thread counter that there is to get.

8x magnification
The sublime 8x magnification provides a nice sharp image.